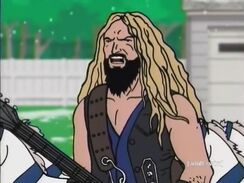 Jeffrey Phillip Weilandt
(born January 14, 1967), best known by the stage name
Zakk Wylde
, is an American musician, songwriter, and occasional actor who is best known as the former guitarist for
Ozzy Osbourne
and founder of the heavy metal band
Black Label Society
. He was the lead guitarist and vocalist in
Pride and Glory
, who released one self-titled album in 1994 before disbanding. As a solo artist he released
Book of Shadows
in 1996. He also appeared in the
Season 2
 episode of
Aqua Teen Hunger Force
, "
Spirit Journey Formation Anniversary
".
Role in Aqua Teen
It's Meatwad's birthday, and Master Shake can't stand "Happy Birthday to You", so he commissions a new heavy-metal song co-written by him, Zakk Wylde, and Geddy Lee. Frylock discovers that the entire endeavor cost $1.4 million because Shake paid for and fed Zakk's train of white stallions (which needed to be bleached white), and Shake needs to figure out a way to pay for it. However, Shake is sure the royalties for the new song will roll in. His logic? Shake mistakenly believes that there are (only) hundreds of birthdays a year. (Shake: "Do you know how many birthdays there are a year? Hundreds. Literally...hundreds.")
Unfortunately for Shake, no one is willing to buy the song (titled "Spirit Journey Formation Anniversary"), and he is in deep financial trouble. He decides that the best way to get out is to sell the house, but that is foiled when the man he tries to sell to runs off with the TV and the complementary muffins. Almost immediately afterwards, a snow machine starts spraying snow everywhere, with a chariot driven by a train of white stallions riding with it. It's Zakk Wylde coming for his money, and Shake goes to hide in the kitchen, where Zakk sees him and puts his axe-shaped guitar through his skull.
After all is settled, the Aqua Teens head over to the abandoned Pizza Potamus restaurant where Shake decides that this would be the place for the song to best be played for children (who love pizza and squalor, according to Shake). But Shake is not going to play it...it will be played by the Black Mountain Scorpion Hoedown Bluegrass Experience Gang, consisting of two robotic scorpions (armed with guns and laser cannons) and "featuring Zakk Wylde on washtub bass". Eventually, Zakk gets fed up with all of Shake's shenanigans, and finally decides to play on his own with the robot scorpions as backup. Finally, the scorpions decide that the song sucks, and fight to the death with each other, killing Zakk Wylde in the crossfire.
Ad blocker interference detected!
Wikia is a free-to-use site that makes money from advertising. We have a modified experience for viewers using ad blockers

Wikia is not accessible if you've made further modifications. Remove the custom ad blocker rule(s) and the page will load as expected.