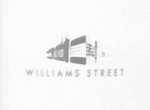 Williams Street is the company that produces Adult Swim shows, including the series itself.
Networks That Have It's Shows
Edit
TV Shows
Edit
Space Ghost Coast to Coast
Aqua Teen Hunger Force
The Brak Show
Harvey Birdman, Attorney at Law
Sealab 2021
The Big O II
Immortal Grand Prix
The Venture Bros
Perfect Hair Forever
Stroker and Hoop
Tom Goes to the Mayor
Lucy, the Daughter of the Devil
Moral Orel
Robot Chicken
Squidbillies
12 oz. Mouse
Assy McGee
Frisky Dingo
Metalocalypse
Minorteam
The Drinky Crow Show
Superjail!
Xavier: Renegade Angel
The Xtacles
Titan Maximum
Mary Shelly's Frankenhole
China, IL
Mongo Wrestling Alliance
Soul Quest Overdrive
Black Dynamite
The Eric Andre Show
Your Pretty Face is Going to Hell
Rick and Morty
Mike Tyson Mysteries
Mr. Pickles
Brad Neely's Harg Nallin' Sclopo Peepio
Samurai Jack (5th season only)
Ad blocker interference detected!
Wikia is a free-to-use site that makes money from advertising. We have a modified experience for viewers using ad blockers

Wikia is not accessible if you've made further modifications. Remove the custom ad blocker rule(s) and the page will load as expected.