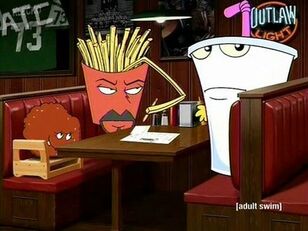 Vi's Lounge
is a sports bar that the Aqua Teens visit when they eat out. Every Tuesday night, the bar has a trivia contest. It was first visited in "
Super Trivia
", where it turns out that it was just an illusion created by
Wayne "The Brain" McClain
. But it was later seen as a real location in "
Grim Reaper Gutters
", "
Dummy Love
", and "Allen Part 2." Their health standards is questionable, because in "Grim Reaper Gutters",
Meatwad
finds a pubic hair in his salsa. Some decor of the bar include sports jerseys, neon beer lights (Outlaw Light; Red Spud on Tap), and sports posters. Food that they serve include beer, buffalo wings, salsa, and guacamole.
Ad blocker interference detected!
Wikia is a free-to-use site that makes money from advertising. We have a modified experience for viewers using ad blockers

Wikia is not accessible if you've made further modifications. Remove the custom ad blocker rule(s) and the page will load as expected.