Trenton Tar Pits
Talk

0
520pages on
this wiki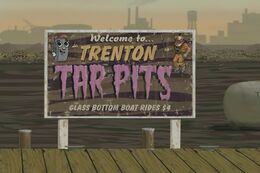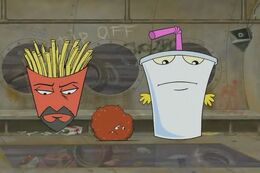 The Trenton Tar Pits
is a glass bottom boat ride, that allows you to float above the surface of a tar pit. The boat was last seen without any people aboard (except for the
Aqua Teens
) and appears to be in poor condition, having been defaced. All that was visible through the window was tar, tires, and other garbage and tarnish gathered together within the tar. The location still remains uknown, however, it is clear that it is located in an abandoned, polluted, dangerous, barron-wasteland.
The Captain of the ship
was also a convicted sex offender who invited passengers up to "see the captain." It appears only in episode 16
PDA
and level 3 of the ATHF video game.