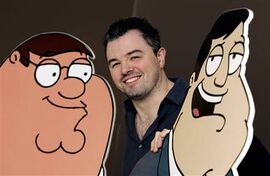 Seth MacFarlane is the creator for the shows Family Guy, American Dad, and The Cleveland Show (all of which air in reruns on [adult swim]). He also provides the voices of many characters on these shows.
He was a guest star in "Super Trivia", during a period of time where Family Guy was cancelled. His failed attempt to remake The Flintstones was parodied in "The Granite Family".
Early Interest with Cartoons
Seth MacFarlane was always interested in drawing cartoon characters, such as Fred Flintstone and Woody Woodpecker. His first animated cartoon was entitled "Space Pirates," which Seth later remarked as being "terrible."[1] He also had a comic strip in the local paper entitled Walter Crouton, which he worked on for years.
Successes and Failures
Seth MacFarlane was the youngest person to receive his own animated television show when Family Guy first aired. At that time, it was very rare for a cartoon to address such adult issues as HIV and bestiality. The show was cancelled for three years, but the show was picked up for a fourth season, when Seth offered to make what later became a direct-to-DVD movie that would later air as three episodes of the show.[2] He also co-created American Dad and made a Family Guy spin-off The Cleveland Show. Of course, The Cleveland Show has not been as highly regarded as Family Guy. It should also be noted that his success at getting Family Guy back on the air could be partially due to the syndication of Family Guy on [adult swim].
Seth MacFarlane has not limited himself to animation. He made a live action film entitled Ted. The film centered on a teddy bear that was brought to life years earlier because of a wish on a falling star. Seth also had the honor of hosting the Oscars.
Aqua Teen Hunger Force
In the Season 2 episode "Super Trivia," Seth loaned his voice to an incredibly intelligent character known as Wayne "The Brain" McClain. In the episode, Wayne continuously won Trivia contests at a bar, greatly upsetting Frylock. It was revealed at the end of the episode that all of the questions were merely illusions created by Wayne and that the bar and everything in it (except the Aqua Teens and Carl) were also illusions created by Wayne.
He discussed creating a remake of The Flintstones, but the project was ultimately dropped. This was parodied in the season 9 episode "The Granite Family".
Trivia
Seth was supposed to be on one of the planes, American Airlines Flight 11, on September 11, 2001. The plane was hijacked and crashed into the World Trade Center. But he arrived late at the airport due to a hangover from the night before and his travel agent giving him the wrong departure time.
References
↑ Barbara Walters' Ten Most Fascinating People of 2012 http://www.youtube.com/watch?v=oKnNsrfbk4s
↑ Family Guy Stewie Griffin: the Untold Story DVD commentary.