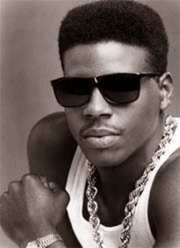 Schoolly D
is an American rapper that performs the
Aqua Teen Hunger Force theme song
that is used during the first seven seasons. He was, at one point, somewhat of a narrator for Aqua Teen Hunger Force; though, all he would do is say something unimportant such as the ridiculousness of bringing a mummy to a mall. These narrations would be used less and less as the series progressed, though they would be used more during
Season 7
. In
Aqua Unit Patrol Squad 1
, George Lowe somewhat replaced him as a narrator by reading the episode titles.
He also did the theme song for Aqua Something You Know Whatever, alongside another band. In addition, he makes a cameo in the Aqua TV Show Show episode "Muscles," offering to do Shake's brain transplant idea.
Ad blocker interference detected!
Wikia is a free-to-use site that makes money from advertising. We have a modified experience for viewers using ad blockers

Wikia is not accessible if you've made further modifications. Remove the custom ad blocker rule(s) and the page will load as expected.