Patton Oswalt
is a voice actor and comedian from the popular animated series
Aqua Teen Hunger Force
. He voices the
Frat Aliens
, and
Jesus "Ezekial" Jesus
.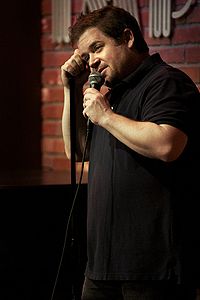 He is credited as "Shecky Chucklestein" due to Screen Actors Guild (SAG) rules which prohibit members from being officially credited on non-union approved shows (like ATHF).
Voice Acting on ATHF
His work on the Aqua Teen Hunger Force includes:
Ad blocker interference detected!
Wikia is a free-to-use site that makes money from advertising. We have a modified experience for viewers using ad blockers

Wikia is not accessible if you've made further modifications. Remove the custom ad blocker rule(s) and the page will load as expected.