Ad blocker interference detected!
Wikia is a free-to-use site that makes money from advertising. We have a modified experience for viewers using ad blockers

Wikia is not accessible if you've made further modifications. Remove the custom ad blocker rule(s) and the page will load as expected.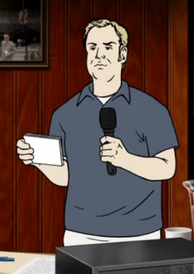 Ned Hastings
is an ATHF crew member (editor/director) who voices and portrays himself as host of Bar Trivia Night and a figment of the imagination of
Wayne "The Brain" McClain
. He appears in the episode
Super Trivia
. He appears again in a background shot in the Aqua Teen movie, and again as a DJ in "Couple's Skate". Wayne "The Brain" McClain is nowhere around on these occasions, however. He also later appears again as a host in
Chicken and Beans.