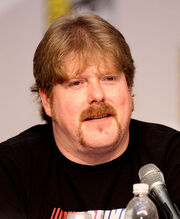 John DiMaggio is a voice-over actor who guest starred on the "Muscles" episode of Aqua TV Show Show. He is credited as "Johnny Dee" in that episode's closing credits. He also voiced Dr. Zord as an uncredited role for "Rabbit, Not Rabbot". He has played many other characters, including the often drunk robot Bender on Futurama and the adventure-loving Jake the Dog on Adventure Time.
Ad blocker interference detected!
Wikia is a free-to-use site that makes money from advertising. We have a modified experience for viewers using ad blockers

Wikia is not accessible if you've made further modifications. Remove the custom ad blocker rule(s) and the page will load as expected.