Drewbacca is a shaved Wookie posing as a werewolf that appears in 2-And-a-Half-Star Wars Out Of Five. He is a member of a Star Trek tribute band with the objective of destroying the moon, attempting to con Frylock into helping him by performing manual labor without permission.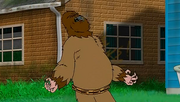 Drewbacca regrows his hair and becomes a feral beast when he is mooned - when
Carl
does so, Drewbacca leaps through his open window and viciously kills him.
Ad blocker interference detected!
Wikia is a free-to-use site that makes money from advertising. We have a modified experience for viewers using ad blockers

Wikia is not accessible if you've made further modifications. Remove the custom ad blocker rule(s) and the page will load as expected.