Carl's Mother
Talk

0
509pages on
this wiki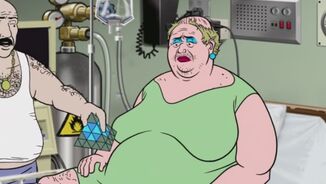 Carl's
Mother was never really shown on screen, instead, she is only seen talking to Carl over phone calls. The conversation usually drags into an argument, and apparently she lives in a very dark VA Hospital. It is obvious that she has little love or care for her children, as she barley remembered who Carl was when he called.
Carl's mom finally makes her first (and probably) last appaearance in Wi-Tri at the end of the show. She is in the hospital which she shares with Zod. Carl goes to visit her and gives her a triangle only to be killed by Zod in the end.
Carl bares a striking resemblance to his mom. His mom is obese, has balding hair (probably from whatever ailment she's suffering from) and wears a heavy amount of make-up.