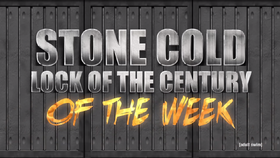 Carl's Stone Cold Lock of the Century of the Week
(formerly known as
Carl's Pissed
and
Carl
) is an online series on Adult Swim Video starring
Carl Brutananadilewski
from the popular
Adult Swim
program
Aqua Teen Hunger Force
, which started October 2007.
Adult Swim Video[1] began posting exclusive videos of Carl's thoughts and musings on sports-related current events. These were then released on the Volume Six DVD of Aqua Teen Hunger Force. Another episode was posted February 1, 2009, the same day as the broadcast of Super Bowl XLIII, and is not currently available on DVD. The series returned October 9, 2009. The series was originally titled I'm Pissed, but when it returned the name was changed to just Carl; and most of the episodes are available on Adult Swim video, although the titles for all of them have been changed to Carl as well.
This program was made for Scott Van Pelt's ESPN Radio show, as Scott was a major fan of the show. Since 2015, this show is now shown on television during a late night version of SportsCenter hosted by SVP at 12am.
Carl's Stone Cold Lock of the Century of the Week is still in production to this day, despite the conclusion of Aqua Teen Hunger Force.
Season One: 2007 - 2009
Edit
| # | Title | Release date |
| --- | --- | --- |
| 1 | "Memories of Joe" | October 19, 2007 |
| 2 | "Boston Freakin' Won" | October 29, 2007 |
| 3 | "Brady vs. Manning" | November 5, 2007 |
| 4 | "Red is for Losers" | November 12, 2007 |
| 5 | "Let Barry Be Barry" | November 19, 2007 |
| 6 | "The BCS" | November 26, 2007 |
| 7 | "Mike Vick-tim" | December 1, 2007 |
| 8 | "Championships and Porn" | December 3, 2007 |
| 9 | "Roid Rage" | December 17, 2007 |
| 10 | "Holiday Thoughts and Musings" | December 24, 2007 |
| 11 | "Bottle Blonde Broad" | January 14, 2008 |
| 12 | "Giants Win" | January 21, 2008 |
| 13 | "Giants by 23" | January 28, 2008 |
| 14 | "Giants Win the Super Bowl" | February 4, 2008 |
| 15 | "Super Bowl '09 Odds" | February 1, 2009 |
Season Two: 2009 - 2010
Edit
| # | Title | Release date |
| --- | --- | --- |
| 16 | "Carl's Stone Cold Lock of the Century of the Week" | October 9, 2009 |
| 17 | "Vikings vs. Ravens" | October 16, 2009 |
| 18 | "Patriots vs. Buccaneers" | October 23, 2009 |
| 19 | "Eagles vs. Giants" | October 30, 2009 |
| 20 | "Chiefs vs. Jaguars" | November 6, 2009 |
| 21 | "Giants vs. Falcons" | November 20, 2009 |
| 22 | "Saints vs. Patriots" | November 27, 2009 |
| 23 | "Michael Vick and Tiger Woods" | December 4, 2009 |
| 24 | "Bengals vs. Vikings" | December 11, 2009 |
| 25 | "Colts vs. Jaguars" | December 16, 2009 |
| 26 | "Eli, Plaxico and The Big Blue Wrecking Crew" | December 23, 2009 |
| 27 | "Urban Meyer's Flip Flop" | January 1, 2010 |
| 28 | "Extreme Sports Showdown" | January 8, 2010 |
| 29 | "Jets vs. Chargers" | January 15, 2010 |
| 30 | "Early Takes Over" | January 22, 2010 |
| 31 | "AFC-NFC Pro Bowl" | January 29, 2010 |
| 32 | "Super Bowl XLIV" | February 5, 2010 |
| 33 | "The Winter Olympics" | March 1, 2010 |
| 34 | "The Oscars" | 2010 |
| 35 | "March Madness" | March 19, 2010 |
| 36 | "Not In Kansas Anymore" | March 26, 2010 |
| 37 | "World Cup and Wimbledon" | 2010 |
| 38 | "New York Jets Vs. New England Patriots" | September 17, 2010 |
References
Edit