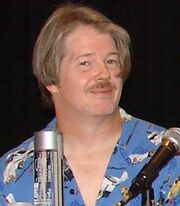 C. Martin Croker was a voice actor who did a lot of work for Space Ghost Coast to Coast and Aqua Teen Hunger Force. He passed away suddenly on September 17, 2016. He was 54 years old. Croker's friends and co-stars George Lowe and Andy Merrill expressed their sadness and condolences to his family for his unfortunate passing on Facebook and Twitter.
Voice Acting
Ad blocker interference detected!
Wikia is a free-to-use site that makes money from advertising. We have a modified experience for viewers using ad blockers

Wikia is not accessible if you've made further modifications. Remove the custom ad blocker rule(s) and the page will load as expected.