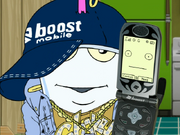 Boost Mobile
is a cellular service provider that appeared in
Boost Mobile (episode)
.
Master Shake
agrees to advertise for Boost Mobile in exchange for money, but the deal turns dark when
Josh
, a representative for Boost Mobile, tells Shake that he will castrate him if he doesn't constantly advertise the service to everybody he meets.
When his first phone is destroyed by Frylock, two more show up at Shake's house. When those two are destroyed, dozens of Boost Mobile phones appear, and they violently attack Shake with their downloadable switch blades.
List of Features
Edit
Text messaging
Make and receive cellular calls
GPS enabled
Vibra-call alert
Downloadable ringtones
Boost wireless web for national roaming
Pay as you go
Facetime
Games
Molecular transporter
Downloadable switchblade