Billie Reaves was the real-life grandmother of Dave Willis. She performed a brief cameo role in the episode Dirtfoot when (reproducing a scene from Bruno Sardine: Private Inbreastigator) she reported to the Aqua Teens she'd accidentally hit their "dog" (actually Dirtfoot himself) with "her swords", only for her top to magically disappear.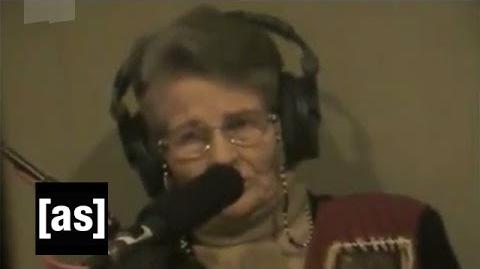 Apparently having a good sense of humor, Billie (80+ years old during this period) also contributed to another one of her grandson's productions, voicing the Sheriff's mother on Squidbillies.
She has since passed away.
Ad blocker interference detected!
Wikia is a free-to-use site that makes money from advertising. We have a modified experience for viewers using ad blockers

Wikia is not accessible if you've made further modifications. Remove the custom ad blocker rule(s) and the page will load as expected.