Aqua Teen Hunger Force Zombie Ninja Pro-Am
Talk

0
509pages on
this wiki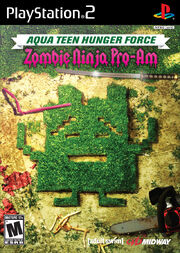 Aqua Teen Hunger Force Zombie Ninja Pro-Am is a Playstation 2 video game for Aqua Teen Hunger Force. It is a kart racing/fighting/golf game that takes place on some of New Jersey's Golf courses. The game was released in North America on November 5, 2007 and it's Released by Midway Amusement Games and Developed by Creat Studios.
The entire game features 9 holes. The first few holes are located on Jersey Pines golf course which are based on locations within the show like the tar pits, the Moon, Hell, and a fantasy level that Meatwad creates with the mummy's magic shirt. There are also 3 levels where you race against the Frat Aliens giving the game a total of 12 levels.
Once a ball is teed, you take control of Master Shake or Frylock to fight your way to where your ball landed. You face many previous series villains like Carl's crabs, Turkatron, the Mooninites, and others. When you reach the green, you must defeat that hole's boss before you can putt.
For the racing levels you are in your golf cart and you race through the course you just played on collecting speed boosts and using a bazooka to shoot the Frat Aliens and get to each check point in order for 3 laps to defeat the frats and move on to the next level.
There are 2 secrets on each level for both the golf and racing sections. There are cameos that you can collect and a piece of the Broodwich. Once you collect each piece of Broodwich you unlock a special Broodwich challenge.
The game feautres a variety of bonus material, ranging from the clips you unlocked by collecting the cameos to complete episodes of the show including one never before seen. The game is Rated M for Mature.
Level 1: Suburb
Level 2: The Swamp
Level 3: The Tar Pit
Level 4: The Field
Level 5: Race on the Field
Level 6: The Moon
Level 7: The Ruins
Level 8: The Candy World
Level 9: Race on the Candy World
Level 10: Hell
Level 11: Race on the Moon
Level 12: The Town