About Aqua Teen Hunger Force

Aqua Teen Hunger Force (also known under many other alternate titles) is an animated television series currently airing on Cartoon Network's late-night block, Adult Swim. It is about three anthropomorphic and ill-mannered food items known as the Aqua Teens and their quick tempered neighbor, Carl, having crazy adventures in New Jersey.
Most Recent Episode - Aired October 20, 2013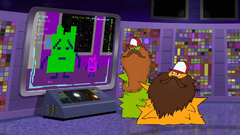 Spacecadeuce is the tenth and final episode of Season 10, and the 130th episode overall. It aired on October 20, 2013.

Synopsis: After awakening from months of hypersleep, the Plutonians are sent on a deadly mission by their new masters, the Mooninites.
Aqua Teen News - Updated 5/12/2014

Dave Willis has stated via tweet that the eleventh season of Aqua Teen Hunger Force will begin airing early 2015.

Dave Willis's Twitter Feed:
Did You Know?
In Universal Remonster, Oglethorpe claims that the Ancient Bonesaber of Zumakalis is the only weapon capable of slaying the Universal Remonster. Diablo III references this by making the sword an actual weapon in game. It bears the marking of "Em Ryog Elth'orp," referencing Oglethrope and Emory.
Poll